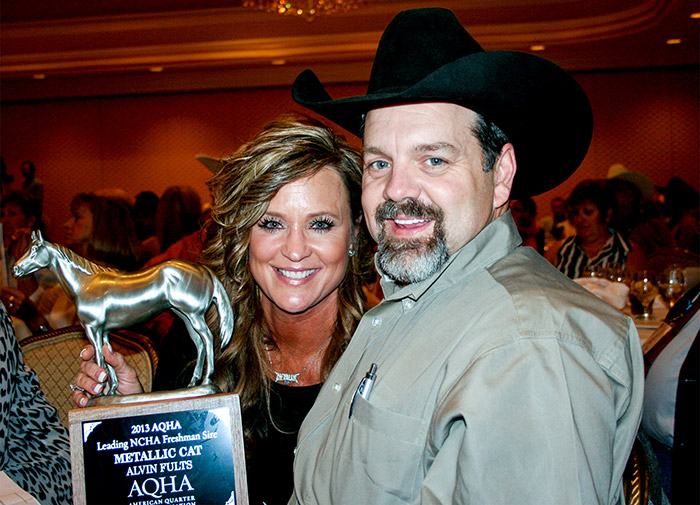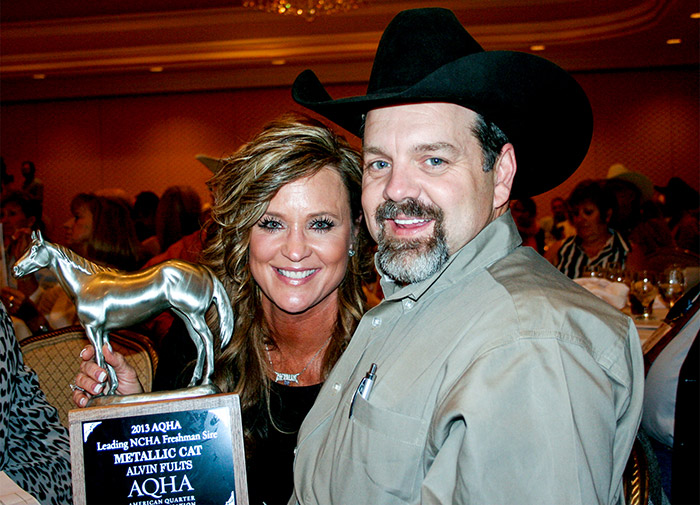 Alvin and Becky Fults grew up with a mutual love of horses in Dumas, Texas – about 50 miles north of Amarillo. Becky enjoyed jumping and running barrels, while Alvin rode rope horses, but the two went their separate ways when they left home for college.
After graduating, Alvin and Becky were reunited in Amarillo and they've been together ever since. The couple continued to share their equine interest until Alvin's shoulder was injured in a roping accident in 2002. After taking some time to heal and mourn the loss of the sport he'd always loved, Alvin decided to try his hand at a new event and purchased his first cutting horse in 2004.
"Cutting always intrigued me, just how well-trained the horses were and how smart they were on a cow. What I thought was a bad thing ended up being the best thing that ever happened to me."

– Alvin Fults
But by 2008, Alvin and Becky decided to slow down to enjoy family time with sons Colton and Cade, so they sold all but a few of their horses and planned to stick to showing at weekend events. Just then, newly turned professional Beau Galyean and a handsome 3-year-old red roan colt named Metallic Cat changed everything.
"Beau had him for sale, and boy, I loved that horse! So, I ended up buying him," Alvin recalls. "We had him double-entered at the NCHA Futurity, but when he kept advancing through the Open go-rounds, I scratched my entry to give him the best chance of doing as much as he could. He went on and won, and the rest is history. I never got to show that horse."
While Alvin and Becky never planned on being stallion owners, they have happily embraced the responsibility fate has laid on their shoulders as custodians of Metallic Cat. The 2005 stallion enjoys daily turnout in a 12-acre pen, which is surrounded by double-fenced traps with his own band of broodmares. With an on-site breeding facility, "Denver" never leaves the comfort of home and he has become a part of the Fults family.
Now deeply involved in the cutting horse industry, the couple resides on their 200-acre Fults Ranch in Amarillo. Fults Ranch boasts irrigated alfalfa and grass hay fields, which supply the ranch with quality forage, as well as an assortment of beautiful trees. The homey facility is warm and inviting, and the Fults's enjoy welcoming visitors to their own little oasis in the desert.