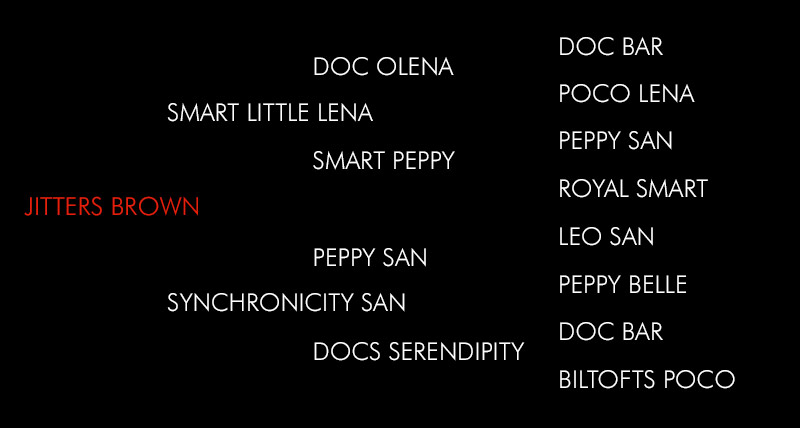 1999 Sorrel Mare (3785602)
DAM OF THE EARNERS OF $338,965
PERFORMANCE RECORD
Finalist in the NWCHA Festival Open Futurity and Tejon Sweet Iron Open Derby; NCHA Certificate of Ability.
PRODUCE RECORD
2005 Jitters Cat, f. by High Brow Cat. $10,968: NCHA $3,000 Novice Top Ten; 4th, PCCHA $3,000 Novice Top Ten.
2006 Whiskeynadirtyglass, c. by High Brow Cat. $184,288: top 10, NCHA Open Futurity; NCHA Limited Open Classic/Challenge Champion; NCHA Super Stakes Limited Open Classic Champion; split 4th, NCHA Open Classic/ Challenge; El Rancho Open Classic Reserve Champion; Open ROM, etc.
2008 Spoon Inadirtyglass, c. by Hes A Peptospoonful. $31,475: 5th, NCHA Limited Open Derby; finalist in the Brazos Bash Open Derby, NCHA Open Gelding Derby; semi-finalist in the NCHA Super Stakes Non-Pro Classic.
2008 Smooth Chelada,  f. by Smooth As A Cat. NCHA $2,690.
2009 Jitters Time, c. by One Time Pepto. $2,867: 4th, Breeders Inv. Derby Sale Incentive.
2009 Bookers, g. by One Time Pepto. $25,044: 5th, NCHA Amateur Futurity; 2013 PCCHA 4-Year-Old Amateur Stakes Champion; finalist in the NCHA Limited Non-Pro Derby, Brazos Bash Amateur Derby, etc.
2010 Highonbrownwhiskey, g. by High Brow Cat. top 10, 2016 Ardmore Barrels Open 4D.
2010 Whiskey Cat, c. by High Brow Cat. $33,859: top 10, 2016 PCCHA Spring Open Classic/Challenge; & 2016 El Rancho Open Classic.
2011 Pippa Brown, f. by Metallic Cat. $9,039: finalist, Calgary Stampede Wrangler Open Futurity, 2016 Canadian Supreme Open Classic.
2011 Cordite, c. by Metallic Cat. $2,651: money-earner, 2014 NCHA Futurity $50,000 Amateur.
2011 Metallic Bourbon, c. by Metallic Cat. $7,463: money-earner, NCHA Non-Pro Futurity; finalist in the 2015 NCHA Amateur Derby.
2012 Whipoorwill Brown, g. by One Time Pepto.NCHA $1,198.
2012 She Keeps Secrets, f. by One Time Pepto. $27,245: 4th, 2016 Abilene Spectacular Non-Pro Derby; "The Non Pro" $100,000 Amateur Champion.
2013 Noodles Brown, f. by Metallic Cat.
2013 Macaroni Brown. f. by Metallic Cat.
2015 Fracker Brown, c. by Smooth As A Cat.
2016 Jittery, c. by Metallic Cat.
Sire
By SMART LITTLE LENA (1979). $743,275: NCHA Triple Crown. A Leading Sire. Sire of 1,452 RGP money-earners, $42,258,176, and earners of 10,302 AQHA points, including JUSTA SMART PEANUT ($417,739: NCHA Horse of the Year), RED WHITE AND BOON ($930,954: NCHA World Champion Gelding; NCHA Hall of Fame).
1st Dam
SYNCHRONICITY SAN, by Peppy San. $6,599: finalist in the PCCHA Open Futurity and California Open Futurity. Dam of– AB SMART LITTLE MICK (Smart Little Lena). $16,920: 3rd, PCCHA Open Derby; split 3rd, San Diego Open Derby; 5th, Tejon Ranch Open Derby. Kempe Doc (f. by Doc's Hickory). $3,531: finalist in the Northwest Open Futurity, Nevada Spectacular Open Futurity, Red Bluff Open Derby.