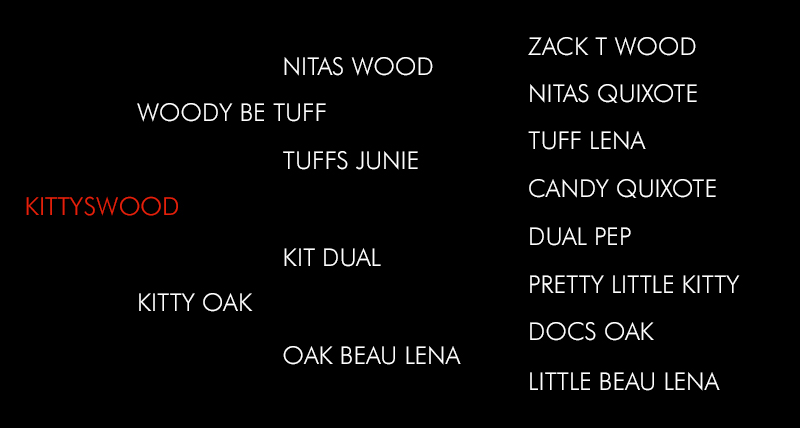 Earner of $105,762
PERFORMANCE RECORD
NCHA earner of $105,762: split 5th, 2012 NCHA Open Futurity; finalist in the 2013 NCHA Open Derby; split 4th, 2014 Tunica Open Classic; 3rd, 2014 West TX Non-Pro Classic; 4th, 2013 Augusta 4-Year-Old Open Futurity; finalist in the 2013 Southern Open Derby; split 4th, 2013 Waco Open Derby.
Sire
By WOODY BE TUFF (2001).$351,063: NCHA Silver Award; NCHA $3,000 Novice & $10,000 Novice Finals Champion; Champion of the Augusta Open Classic, Cotton Open Classic, South Point Winter Non-Pro Classic, etc. Brother to WOOD SHE B TUFF ($92,073: NCHA $10,000 Novice World Champion). A 2013 NCHA Leading Sire. Sire of CR TUFF HEARTED CAT ($264,610: NCHA Open Futurity Co-Champion), CR FIRST TUFF ($132,695: 3rd, 2013 NCHA Open Super Stakes; 7th, 2013 NCHA Open Derby; 2013 West Texas Open Derby Champion), KITTYSWOOD ($105,762: split 5th, NCHA Open Futurity).
1st Dam
KITTY OAK, by Kit Dual. $104,260: Texas Cutting Non-Pro Classic Champion and Open Reserve Champion; split 4th, NCHA Limited Non-Pro Classic/Challenge; NCHA Primetime Non-Pro Classic/Challenge Reserve Champion; NCHA Super Stakes Primetime Non-Pro Classic Reserve Champion and Senior Amateur Classic Co-Reserve Champion; 7th, NCHA Open Finals; split 6th, NCHA $3,000 Novice Finals and Memphis Amateur Derby; "The Non- Pro" 5/6-Year-Old Primetime Non-Pro & Primetime Amateur Champion, etc. Dam of 6 foals, 5 of performance age, including a 3-year-old by Thomas E Hughes, 4 performers–
KITTYSWOOD (f. by Woodys Be Tuff). Reference.
CHARLOTTE PLAYER (f. by Lizzys Gotta Player). $7,229: finalist, 2013 NCHA Futurity $100,000 Amateur.
KITTYBETUFF (f. by Woody Be Tuff). $6,969: finalist in the Southern Open Derby and $100,000 Amateur Derby (Senior Reserve Champion).
THIS KITTY SPARKLES (c. by High Brow CD). $3,774: split 3rd, 2014 ACHA World Non-Pro Derby.
2nd Dam
OAK BEAU LENA, by Kit Dual. by Doc's Oak. $7,393: State of Missouri Open Derby Reserve Champion; 4th, CHA Nebraska Open Futurity; split 5th, Tomato Fall OpenDerby; 6th, Kansas All-Age $10,000 Amateur. Dam of–
KITTY OAK (f. by Kit Dual). Above.
BINGO WAS AN OAKIE (c. by Hickory Bingo). $19,999: split 4th, NCHA Eastern Nationals $20,000 Non-Pro and 6th, $3,000 Novice Non-Pro; Congress NCHA $20,000 Non-Pro Reserve Champion.
ARISTOCRAT BEU LENA (f. by Smart Aristocrat). $3,682: finalist in the State of Missouri Open Futurity and Tunica Summer Open Futurity.
3rd Dam
LITTLE BEAU LENA, by Smart Little Lena. $33,794: Big Country Open Futurity Champion; 6th, NCHA Breeders 5/6-Year-Old Open; finalist in the NCHA Super Stakes Non-Pro Classic, Bonanza Non-Pro Classic. Dam of–
NU JINGLES BEAU (Nu Cash). 167 AQHA points: AQHA Select World Team Penning Champion; Superior Open & Amateur Team Penning.
LITTLE LENA BE QUICK (Sugar Bar Buckaroo). $7,689 and 99 AQHA points: finalist in AQHA World Junior Tie-Down Roping; Superior Heeling.